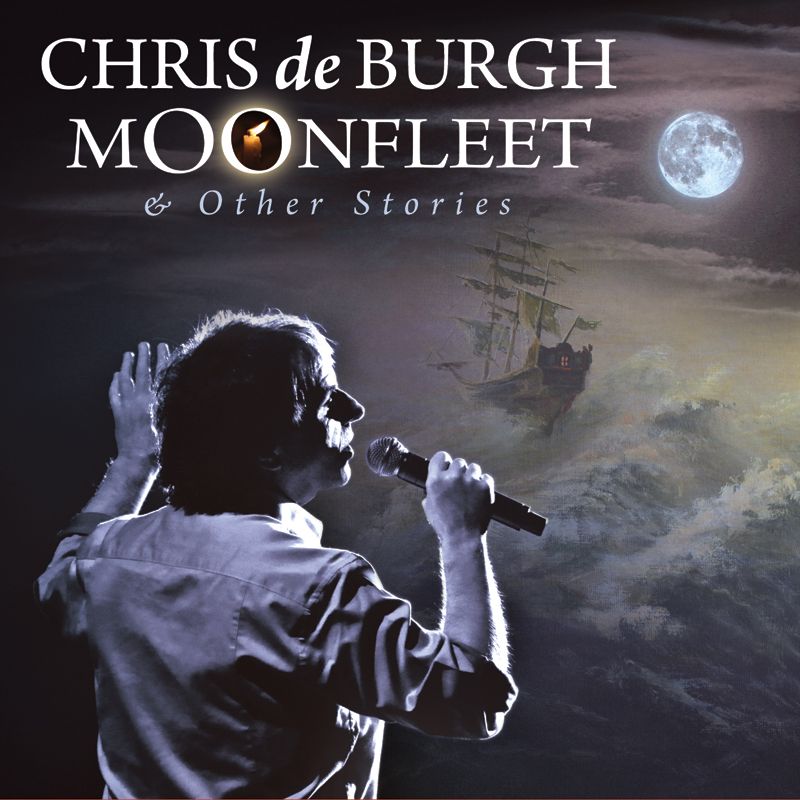 | UPC | REF# | Prix |
| --- | --- | --- |
| 068944856725 | JTR 8567 | 12 |
Moonfleet and Other Stories
Chris de Burgh
Label : JTR // Rock , Pop // 2011-02-22
On peut sans contredit apposer sur Moonfleet And O...
On peut sans contredit apposer sur Moonfleet And Other Stories le titre de tour de force, et non seulement parce qu'il inclut 20 pièces originales (dont une ouverture orchestrale); il s'agit d'une suite musicale multidimensionnelle et pleinement réalisée, et inspirée du livre du même nom. Moonfleet se réfère à une histoire captivante écrite par J. Meade Falkner, histoire qui traite d'amour et de perte, avec en arrière-plan la contrebande se déroulant au 18e siècle dans le village côtier de Moonset, à Dorset en Angleterre.Tel est la popularité de cette histoire écrite en 1898 qu'elle a déjà été adaptée au cinéma, à deux reprises à la télévision, au théâtre and à la radio. L'adaptation de Chris fait appel à tous ses talents musicaux, le musicien combinant les genres classique, folk et chorale avec les balades pop et rock qui sont sa marque de commerce, et le tout est bâti sur une fondation narrative qui mène l'auditeur à travers un voyage rempli d'émotion, créant un 'film dans l'esprit'. Les Other Stories du titre consistent de six nouvelles compositions qui traitent de sujets éclectiques, de la Mona Lisa de Leonardo da Vinci à une histoire d'Oscar Wilde, en passant par la guerre, les anges gardiens et la perte d'innocence. Une autre pièce met la lumière sur une atrocité commise en 2009 en Iran - un pays que Chris tient fortement à coeur.
Enregistré aux: Studios Abbey Road; Studios British Grove; Studios Stanley House.
Personnel: Chris de Burgh (voix, guitare); Phil Palmer (guitare, choriste); Neil Taylor (guitare); Geoffrey Richardson (banjo, mandoline, violon, alto, sifflet, choriste); Nigel Hopkins (accordéon,choriste); Jerry Meehan (basson, guitare basse, choriste); Chris Porter (clavier, percussion); Pete Gordeno (clavier, choriste); Geoff Dugmore (batterie, percussion, choriste); Hazel Fernandez, Jakko Jackszyk (choriste).
Video: http://www.youtube.com/watch?v=xexAcvEASag
Disponible sur iTunes;
http://itunes.apple.com/ca/album/moonfleet-other-stories/id420861243
Titres:
| | | |
| --- | --- | --- |
| | | |
| 01 | THE MOONFLEET OVERTURE | |
| 02 | The village of Moonfleet... (Narration) | |
| 03 | THE LIGHT ON THE BAY | |
| | Your browser does not support the HTML5 Audio element. | |
| 04 | HAVE A CARE | |
| 05 | For two days and nights... (Narration) | |
| 06 | GO WHERE YOUR HEART BELIEVES | |
| 07 | THE ESCAPE | |
| 08 | And so it was... (Narration) | |
| 09 | THE DAYS OF OUR AGE | |
| 10 | THE SECRET OF THE LOCKET | |
| 11 | With heavy heart... (Narration) | |
| 12 | MY HEART'S SURRENDER | |
| 13 | TREASURE AND BETRAYAL | |
| 14 | MOONFLEET BAY | |
| | Your browser does not support the HTML5 Audio element. | |
| 15 | THE STORM | |
| 16 | GREATER LOVE | |
| 17 | In the years that followed... (Narration) | |
| 18 | THE MOONFLEET FINALE | |
| 19 | EVERYWHERE I GO | |
| 20 | THE NIGHTINGALE | |
| 21 | ONE LIFE, ONE LOVE | |
| 22 | WHY MONA LISA SMILED | |
| 23 | PURE JOY | |
| | Your browser does not support the HTML5 Audio element. | |
| 24 | PEOPLE OF THE WORLD | |
Aussi Par Le Même Artiste