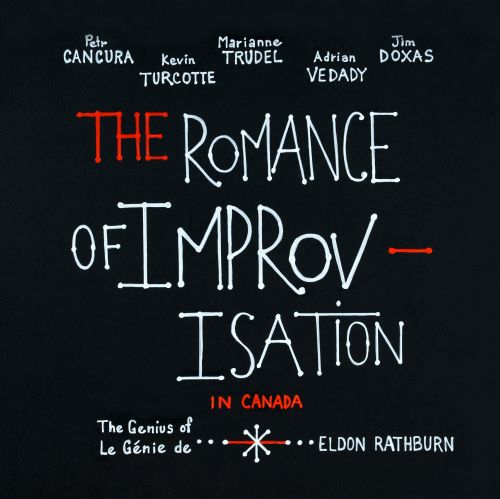 | UPC | REF# | Price |
| --- | --- | --- |
| 068944861323 | JTR 8613-2 | 15 |
The Romance of Improvisation in Canada - The Genius of Eldon Rathburn
Romance of Improvisation
Label : JTR // Jazz // 2018-11-02
Canadian composer Eldon Rathburn (1916-2008) wrote...
Canadian composer Eldon Rathburn (1916-2008) wrote more than 250 film scores, most of them during his thirty-year career as a staff composer for the National Film Board of Canada. Arguably Canada's most prolific composer of film music, Rathburn experimented with a wide range of styles and instrumental configurations throughout his career, with influences ranging from classical, bluegrass, country, blues, electronic, avant-garde, church and dance music genres, to popular music and jazz. Always faithful to the dictates of his film's themes and narratives, Rathburn frequently blended these styles into a delightful mélange, an approach he sometimes attributed to the influence of Charles Ives, a composer he idolized. He had toured with Don Messer's "New Brunswick Lumberjacks" during the 1930s, and this led to formative work as a pianist and arranger for CBC Radio in Saint John during the war years. During this period Rathburn's deep appreciation for jazz took hold, and he began to incorporate the jazz idiom into his film scores shortly after he was hired by the NFB in 1947. The Romance of Improvisation in Canada brings arrangements of some of this music to jazz listeners for the first time.
The core musical materials for this project are drawn from three timeless NFB short films: an Oscar-nominated animated romp through transportation history titled The Romance of Transportation in Canada (Colin Low, Wolf Koenig, Robert Verrall, 1952), Fish Spoilage Control (Wolf Koenig, Gerald Potterton, 1956), a deliciously zany animated film commissioned by Fisheries Canada, and Police (Terence Macartney-Filgate, 1958), a behind-the-scenes look at the daily challenges faced by the Toronto police force. Working with themes from Rathburn's scores for these films, producers/arrangers Adrian Matte and Allyson Rogers created a series of brilliant arrangements that were designed as a springboard for the improvisatory skills and imagination of the five leading Canadian jazz artists who enthusiastically endorsed the project and accepted the challenge.
Tracks:
| | | |
| --- | --- | --- |
| 01 | The Romance of Improvisation in Canada | 03:03 |
| | Your browser does not support the HTML5 Audio element. | |
| 02 | Fish Spoilage | 04:47 |
| 03 | Conveyance by Canoe | 05:15 |
| 04 | Club Café Tango | 04:05 |
| 05 | The Industrial Revolution Comes to Canada | 00:31 |
| 06 | Ox Driver's Blues Pt I | 01:51 |
| 07 | Ox Driver's Blues Pt II | 02:21 |
| 08 | Ox Driver's Blues Pt III | 01:51 |
| 09 | Police | 05:39 |
| 10 | Fresh Fish Delight!/Le poisson se mange frais! | 04:29 |
| 11 | Rathburn Mambo | 03:48 |
| 12 | The Rockies | 07:35 |