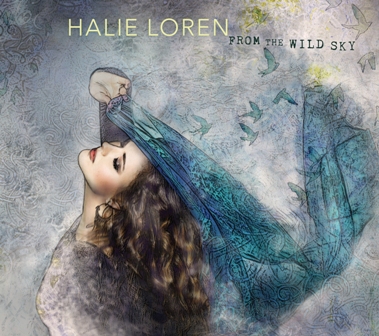 | UPC | REF# | Price |
| --- | --- | --- |
| 068944861125 | JTR 8611 | 15 |
From The Wild Sky
Halie Loren
Label : JTR // Vocal , Jazz // 2018-04-27
Halie Loren is truly an international artist. Like...
Halie Loren is truly an international artist. Like her multi-lingual recordings that transcend cultural borders, her art transcends musical genres via a common thread that weaves a rich tapestry. That tapestry connects her original works with pop-smart jazz, flowing into blues, soul and contemporary compositions that are universal, yet deeply personal.
"For the past few years, I have felt more and more drawn to the idea of putting my songwriter self out there in a much bigger way, as a 100% personal form of expression," explains Loren. "When I write, it's all about the story and the feelings behind it, but never about the particular style in which it takes shape."
The result is art in an eclectic form, with soulful compositions reflecting wounded defiance, stubborn love and hard-earned hopefulness. Her voice connects to the soul of her song writing, reminding us that there is always beauty to be found, even in the most painful experiences. That powerful personal connection is the driving force behind From the Wild Sky, Halie's latest and most ambitious album to date.
The participation of producer Troy Miller (Jamie Cullum, Gregory Porter, Amy Winehouse) was a dream come true for Halie, infusing his unique brand of creativity and sensitivity into bringing her story to life. With the addition of musically adventurous musicians including Femi Temowo, Michael Olatuja and Ben Williams, as well as beautiful vocal and string layers from Becca Stevens, Nathan Schram and Andrew Yee, From the Wild Sky is more like an experience than simply a collection of songs.
Tracks:
| | | |
| --- | --- | --- |
| 01 | Roots | 03:00 |
| 02 | How To Dismantle A Life | 03:16 |
| | Your browser does not support the HTML5 Audio element. | |
| 03 | Wild Birds | 04:15 |
| 04 | Paper Man | 04:05 |
| 05 | I Can't Land | 04:22 |
| 06 | Well - Loved Woman | 03:08 |
| 07 | Painter's Song | 04:37 |
| 08 | August Moon | 04:16 |
| 09 | Noah | 03:32 |
| | Your browser does not support the HTML5 Audio element. | |
| 10 | Wisdom | 04:06 |
| 11 | A Mi Manera | 03:51 |
| | Your browser does not support the HTML5 Audio element. | |