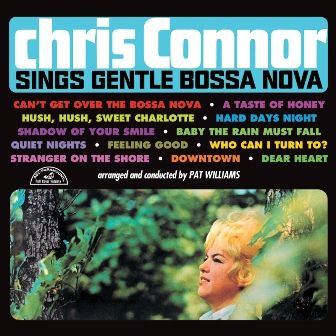 | UPC | REF# | Price |
| --- | --- | --- |
| 068944916726 | JAM 9167 | 15 |
Chris Connor 'Sings Gentle Bossa Nova'
Chris Connor
Label : JAM // Jazz , Vocal , Bossa // 2011-09-13
AVAILABLE NOW ON I TUNES: http://...
AVAILABLE NOW ON I TUNES:
http://itunes.apple.com/ca/preorder/sings-gentle-bossa-nova/id443960799
Chris Connor's warm, honeyed tones have merged with the gently rhythmic Bossa Nova to create and album of pure pleasure. In the opinion of some, Chris's artistry, in the past was ahead of her time. Always appreciated and often acclaimed, Chris rose to fame as a truly great vocalist, but this collection adds another dimension to Chris Connor's art, as her relaxed, easy-flowing interpretation of the Bossa Nova presents the ultimate in song.
Much credit for the superb execution of this project goes to young arranger-conductor Pat Williams. His consistently inventive arrangements were accomplished with a fresh approach, minus gimmicks, using instruments not usually associated with hit records in the 60's. Listen to what he does with the harpsichord and flute in A Hard Day's Night, Downtown (the lyric of which inspired this album title), and Baby, The Rain Must Fall. The nicest thing that could happen to bossa nova is Chris Connor. Listen.........
Tracks:
CD1
| | | |
| --- | --- | --- |
| 01 | Hard Day's Night | 2:30 |
| | Your browser does not support the HTML5 Audio element. | |
| 02 | Downtown | 2:14 |
| | Your browser does not support the HTML5 Audio element. | |
| 03 | A Taste Of Honey | 3:09 |
| | Your browser does not support the HTML5 Audio element. | |
| 04 | Shadow Of Your Smile | 3:39 |
| | Your browser does not support the HTML5 Audio element. | |
| 05 | Feeling Good | 3:27 |
| 06 | Who Can I Turn To (When Nobody Needs Me) | 1:57 |
| 07 | Can't Get Over the Bossa Nova | 2:40 |
| 08 | A Quiet Thing | 3:31 |
| | Your browser does not support the HTML5 Audio element. | |
| 09 | Dear Heart | 2:44 |
| 10 | Hush, Hush, Sweet Charlotte | 2:15 |
| 11 | Baby, The Rain Must Fall | 2:38 |
| 12 | Stranger on the Shore | 2:45 |
| | Your browser does not support the HTML5 Audio element. | |