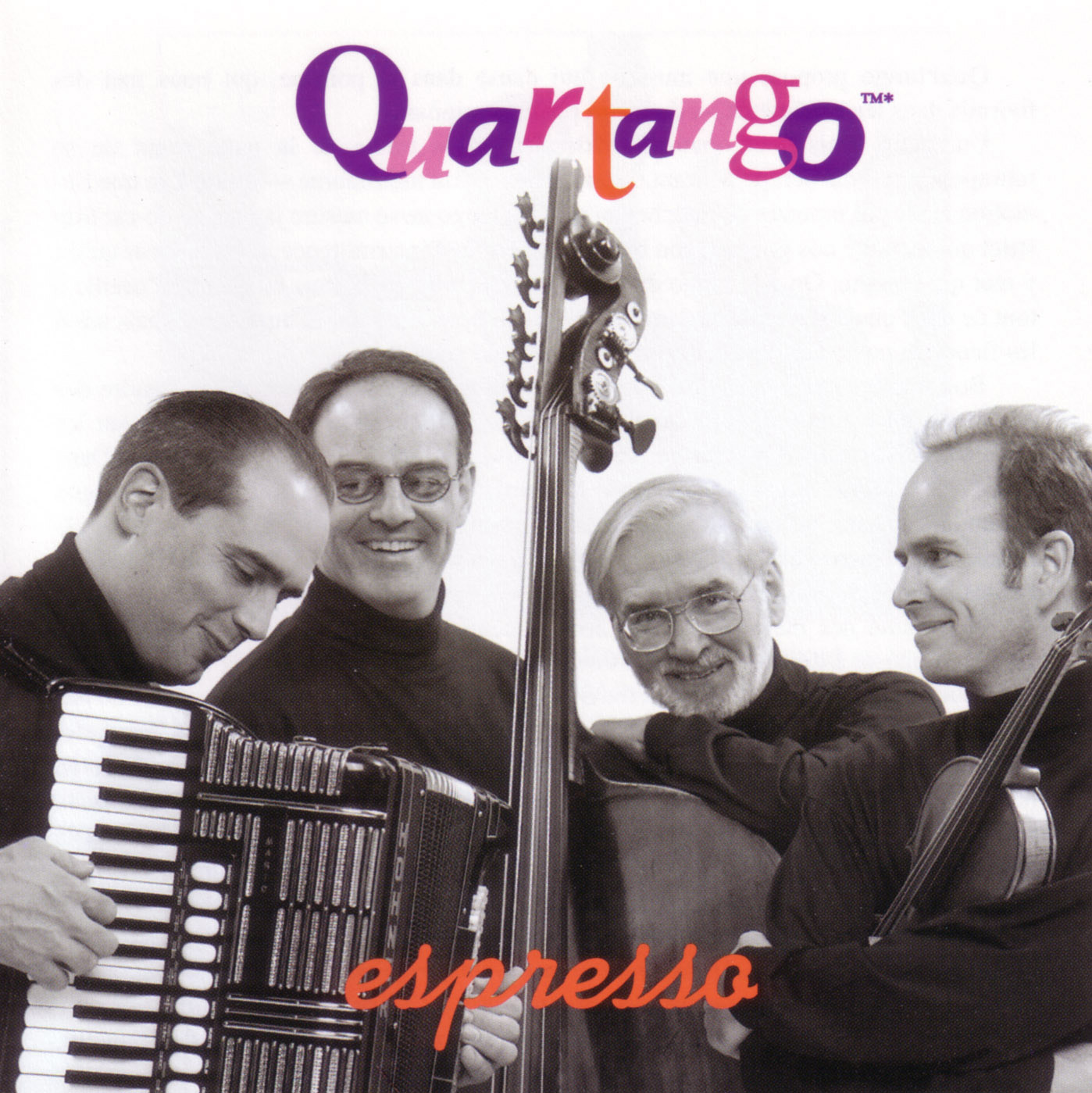 | UPC | REF# | Price |
| --- | --- | --- |
| 068944008421 | JUST 084 | 12 |
Espresso
Quartango
Label : JUST // // 1995-12-02
Espresso contains some traditional favorites...
Espresso contains some traditional favorites including the works of Canaro and Pizzolla, together with some premier recordings from Pelinski, Hunt, and Falaise. In the traditional favorites, we see some new interpretations that highlight the skills of the conservatory-trained musicians who make up this group. Basically this is the music of an "orquesta típica" with the substitution of an accordion for bandoneón. Some purists say that you can't have an "orquesta típica" without a bandoneón, but I disagree.
This music is "world class." I can't believe this group is from Canada! They sound like they grew up on the shores of the Rio de la Plata. Many of us self-styled "tango junkies" know that the Montreal area is home to many who take their tango seriously. It is simply the home of the best tango in North America. For the dancers, most of the music is danceable in the salon tango style, although two arrangements, Piazzola's "Zum," and Peluski's "El Expadriado" have a definite fantasy tango style. I was delighted with the version of Piazzola's "Balada para un loco," the only waltz on the disk, which is musically beautiful and danceable. One premier piece, Hunt's "Tango sulla morte d'un eroe" is beautiful in its own right: it is good listening, and would be suitable for fox trot for those who are ballroom dancers.
This disk exceeded my expectations, and it motivated me to purchase "Esprit," the compact disk is the premier disk of bandoneón player Denis Plante.
Tracks:
| | | |
| --- | --- | --- |
| 02 | Canaro en París | 3:50 |
| 03 | Bando | 3:22 |
| 04 | Tango sulla morte d'un eroe | 6:56 |
| 05 | L'envol de Pantaleón | 5:32 |
| 07 | Vassalean | 4:53 |
| 08 | B., G. | 3:30 |
| 09 | Balada para un loco | 3:13 |
| 10 | El expatriado | 4:26 |
| 11 | Zum | 5:25 |
| 12 | La milonga de Buenos Aires | 3:10 |
CD1
| | | |
| --- | --- | --- |
| 01 | A media luz | 4:04 |
| | Your browser does not support the HTML5 Audio element. | |
| 06 | Neurontango | 7:14 |
| | Your browser does not support the HTML5 Audio element. | |