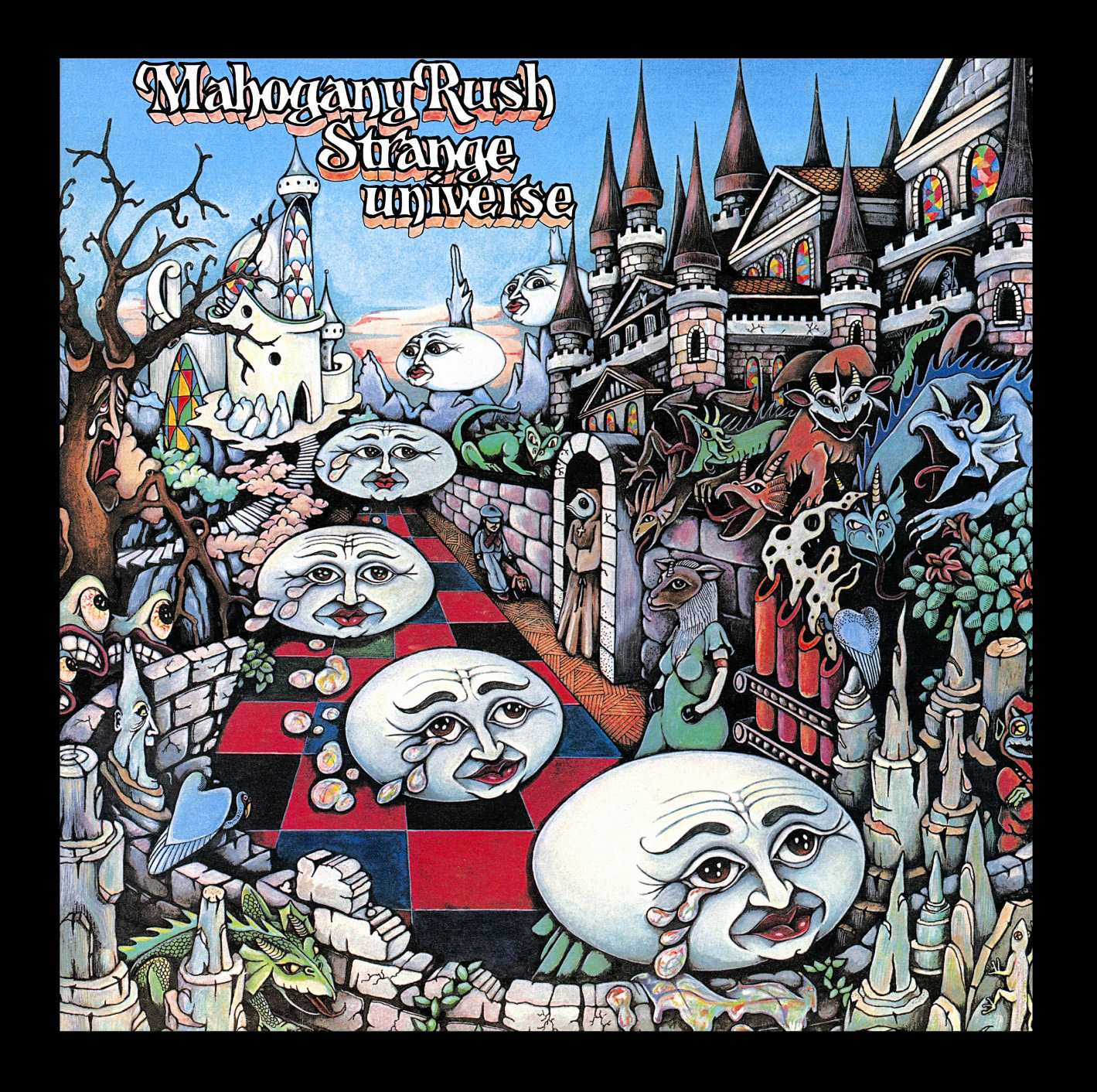 | UPC | REF# | Price |
| --- | --- | --- |
| 068944801329 | MIN 013 | 15 |
Strange Universe
Frank Marino & Mahogany Rush
Label : MIN // Rock // 2006-10-31
Mahogany Rush was to Jimi Hendrix what jazz saxoph...
Mahogany Rush
was to
Jimi Hendrix
what jazz saxophonists
Sonny Stitt
and
Ernie Henry
were to
Charlie Parker
-- loving disciples, but not outright clones. Without question,
Hendrix
was a major influence on the hard rock power trio; you could hear it in leader
Frank Marino
's singing as well as his electric guitar playing. But ultimately,
Mahogany Rush
sounded like itself. One of the best studio albums that
Mahogany
recorded in the 1970s was
Strange Universe
, a hard rock/heavy metal classic that is as melodic as it is forceful. As aggressively as
Mahogany
rocks on gems like "Tryin' Anyway," "Dancing Anyway," and "Dear Music," this 1975 LP never fails to be musical. One hears overtones of progressive rock, psychedelic rock, and jazz-rock fusion on much of the material, and
Mahogany
's lyrics aren't the typical boy-meets-girl fare; in fact, the threesome explores gothic fantasy themes on "Land of 1000 Nights," "Tales of the Spanish Warrior," and other cuts. There are no dull moments on
Strange Universe
, which points to the fact that
Mahogany Rush
was among the finest hard rock/metal bands of the '70s.
Tracks:
CD1
| | | |
| --- | --- | --- |
| 01 | Tales of the Spanish Warrior | 4:57 |
| | Your browser does not support the HTML5 Audio element. | |
| 02 | The king who stole (…the universe) | 3:57 |
| 03 | Satisfy your soul | 3:17 |
| 04 | Land of 1000 Nights | 4:44 |
| | Your browser does not support the HTML5 Audio element. | |
| 05 | Moonlight Lady | 4:08 |
| | Your browser does not support the HTML5 Audio element. | |
| 06 | Dancing Lady | 3:11 |
| 07 | Once again | 3:34 |
| 08 | Tryin' anyway | 4:19 |
| 09 | Dear music | 4:19 |
| 10 | Strange Universe | 6:58 |