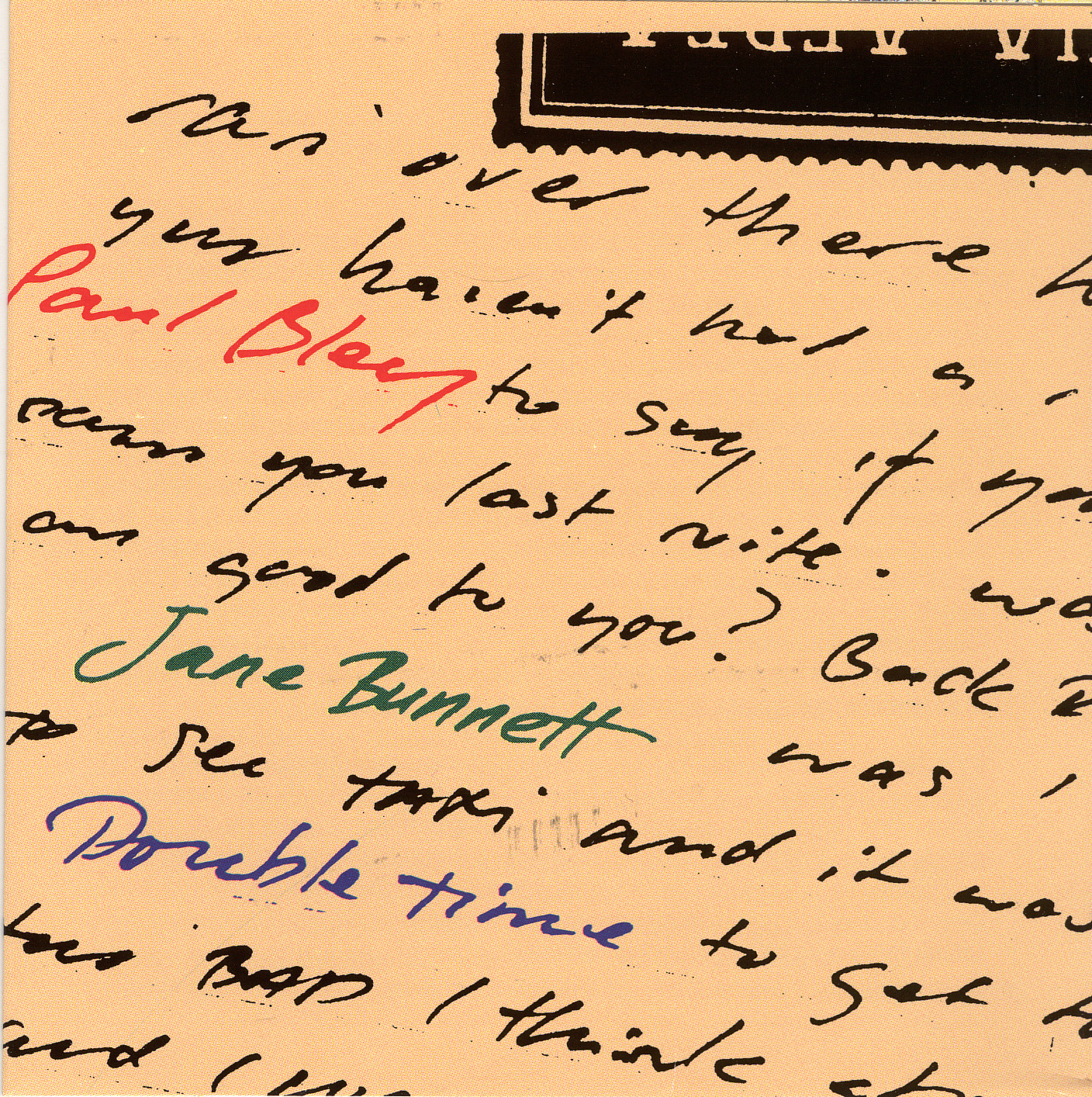 | UPC | REF# | Price |
| --- | --- | --- |
| 068944005826 | JUST 058 | 15 |
Double Time
Jane Bunnett
Label : JUST // Jazz // 1994-05-20
The set's one piece of outside material featu...
The set's one piece of outside material features their version of the Prince Lasha and Sonny Simmons number "Music Matador," which is alluringly regal in its Spanish splendor. Bunnett's flute playing has a rich, warm presence, with just the barest touch of reverb.
This 1994 release is a set of duets by pianist Paul Bley and soprano saxophonist and flautist Jane Bunnett. The two Canadian improvisers work well together, seemingly anticipating each other's every musical turn. The pieces range from the atmospheric and open-ended ("Ballade," "Sequel"), to the uptempo and rollicking ("B & B on the Rocks"), and the straightforwardly romantic ("Foolishly," "Please Don't Ever Leave Me").
Down Beat (4/95) - 3.5 Stars - Good Plus - "...[Bunnett is] unshakably confident and probing....Bley matches her handily without getting in the way or merely echoing her. He compliments the lines she proposes but goes where he will--invariably into the least expected realms of linear, rhythmic, and harmonic investigation..."
JazzTimes (4/95) - "...DOUBLE TIME is one of the fastest-moving 45 minutes of music released in some time..."
Jazziz (2/95) - "...one of the most talented soprano saxophonists and flutists on the current scene, [Bunnett] is clearly inspired and challenged by the adventurous pianist....these fairly free yet thoughtful performances (almost totally improvised on the spot) are mostly quite successful and make for stimulating listening..."
Tracks:
| | | |
| --- | --- | --- |
| 01 | Prequel | 0:41 |
| | Your browser does not support the HTML5 Audio element. | |
| 02 | Sequel | 4:43 |
| | Your browser does not support the HTML5 Audio element. | |
| 03 | B&B On The Rocks | 1:30 |
| | Your browser does not support the HTML5 Audio element. | |
| 04 | Time Was | 0:41 |
| 05 | Neo Boogie | 4:28 |
| 06 | Music Matador | 6:24 |
| 07 | Foolishly | 5:39 |
| 08 | Green | 8:04 |
| 09 | Please Don't Ever Leave Me | 4:47 |
| 10 | Ballade | 3:27 |
| 11 | A Dozen Blues | 6:19 |