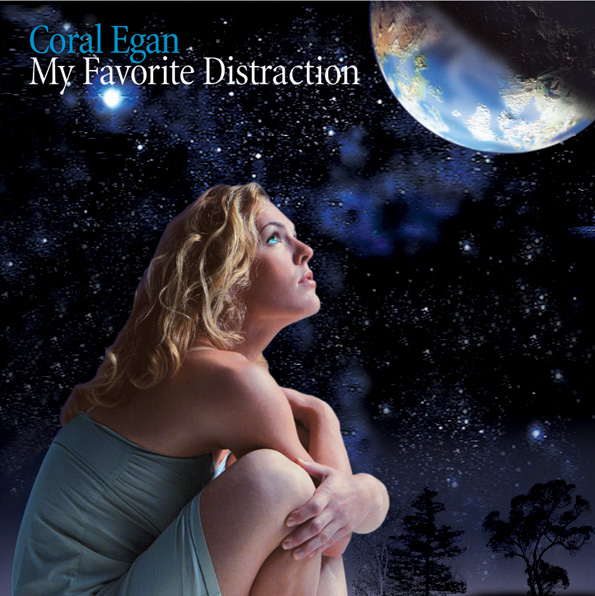 | UPC | REF# | Price |
| --- | --- | --- |
| 068944019120 | JUST 191 | 12 |
My Favorite Distraction
Coral Egan
Label : JUST // Jazz , Vocal // 2004-02-10
Despite looking a bit like Diana Krall and represe...
Despite looking a bit like Diana Krall and represented by the Justin Time Jazz label, Coral Egan is much more than just another piano tickling crooner.
My Favourite Distraction reveals its jazz roots, but this collection of spiritual anthems branches in many directions. It's layered in elegant productions, marrying organic with electronic sounds and marked by Egan's deep, captivating voice.
Highlights include the Suzanne Vega-ish title track and Breathe, a stunning piece laden with strings and gorgeous chord changes in an odd time signature. There are ample hints of what a remarkable artist this Montreal singer could be if she really cut loose creatively.
Now Available on iTunes:
http://itunes.apple.com/ca/album/my-favorite-distraction/id39797517
Tracks:
| | | |
| --- | --- | --- |
| 01 | State of Grace | 3:22 |
| | Your browser does not support the HTML5 Audio element. | |
| 02 | I Don't Think So | 4:02 |
| 03 | Sacrifice | 5:59 |
| 04 | Just Animals | 5:14 |
| | Your browser does not support the HTML5 Audio element. | |
| 05 | Breath | 3:27 |
| 06 | Lullaby Life | 6:13 |
| 07 | My Favourite Distraction | 3:37 |
| | Your browser does not support the HTML5 Audio element. | |
| 08 | Here's Hoping | 3:42 |
| 09 | Fair-weather Friend | 3:39 |
| 10 | Idiotsyncrasies | 4:45 |