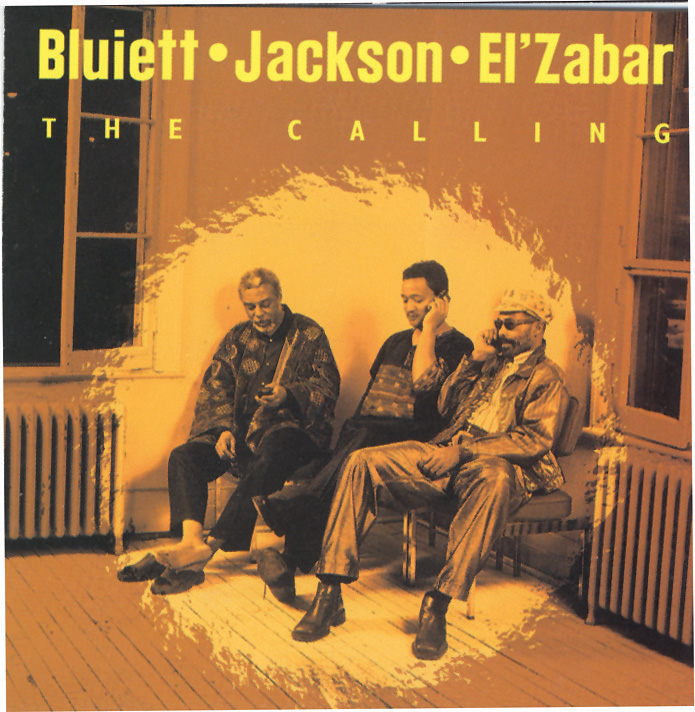 | UPC | REF# | Price |
| --- | --- | --- |
| 68944016228 | JUST 162 | 18 |
The Calling
Hamiet Bluiett
Label : JUST // Jazz // 2001-04-24
The musical traditions of the avant garde and bebo...
The musical traditions of the avant garde and bebop worlds are bridged through the powerful playing and array of grooves resulting from the collective improvisations of Hamiet Bluiett, D.D. Jackson, and Kahil El'Zabar on The Calling, Bluiett's eighth recording for the Justin Time record label. Recorded "live" with no overdubs, the Chicago-based percussionist El'Zabar, keyboardist Jackson, and baritone saxophone heavyweight and co-founder of the World Saxophone Quartet, Bluiett, voyage into unexplored soundscapes that remove many stylistic boundaries. Bluiett plays with a warm, earthy, and glowing tone on ten great songs and picks up the wooden flute on "Ask and You Shall Find" to play a diverse fusion of Eastern and Western rhythms. El'Zabar wrote four songs for the program and lends his great vocals to such tracks as "Open My Eyes," a highly imaginative song that weaves his folk artistry from a spiritual perspective and is somewhat reminiscent of the approach Richie Havens used in the late '60s on his protest and peace songs. El'Zabar's wide array of percussive instruments, including the kalimba, extends his musical concepts, while his playing is deeply rooted in the global culturalism that the Chicago-based AACM has always embraced. Among the many stellar highlights on the disc is "Blues Grind," which features a mean organ solo by Jackson
-Paula Edelstein, All Music
and the down-to-the-bone depth of Bluiett's baritone sax lines.
Tracks:
| | | |
| --- | --- | --- |
| 01 | Open My Eyes | 8:25 |
| 02 | Sai-Wah | 8:22 |
| | Your browser does not support the HTML5 Audio element. | |
| 03 | When the Elephant Walks | 6:27 |
| 04 | Blues for the People | 4:45 |
| | Your browser does not support the HTML5 Audio element. | |
| 05 | Wake Up and Dream | 6:09 |
| 06 | Ask and You Shall Find | 3:11 |
| | Your browser does not support the HTML5 Audio element. | |
| 07 | Black Danube (a.k.a. The Calling) | 5:19 |
| 08 | We Are | 4:50 |
| 09 | Odd Pocket | 6:31 |
| 10 | Blues Grind | 5:19 |