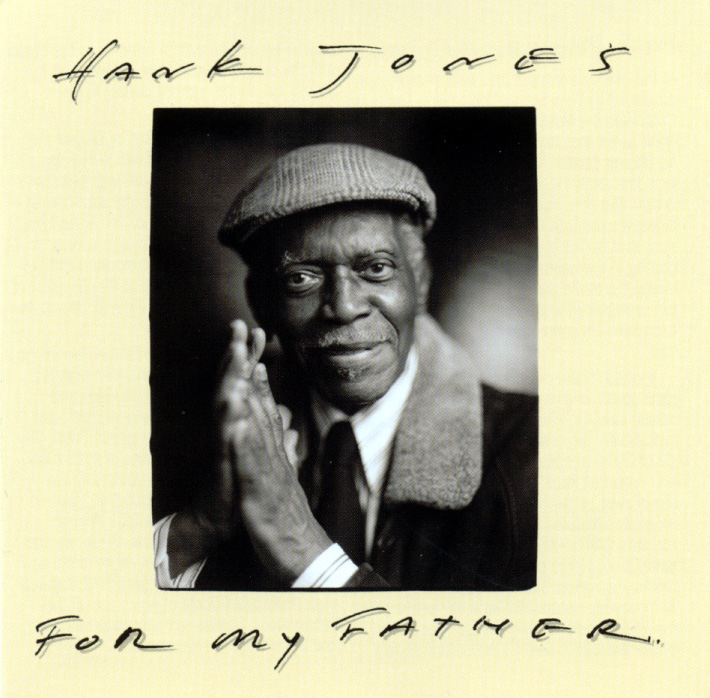 | UPC | REF# | Price |
| --- | --- | --- |
| 68944020928 | JUST 209 | 15 |
For My Father
Hank Jones
Label : JUST // Jazz // 2005-05-24
It's with great pleasure that Justin Time announc...
It's with great pleasure that Justin Time announces Hank Jones' debut recording for Justin Time. Jones, who will be 87 on July 31st, is one of the last surviving greats of jazz piano, and one of the most consistently excellent jazz pianists of all time. He's worked with virtually all the greats, including Coleman Hawkins, Wes Montgomery, Charlie Parker, Ben Webster and Billie Holiday, and was Ella Fitzgerald's main pianist from 1948 to 1953.

Hank Jones was born into a musical family that would produce three of the greatest names in jazz: his brother Elvin (1927-2004) was one of the finest jazz drummers who ever lived, and another younger brother, Thad (1923-86) was one of the best trumpeters and also a gifted and influential composer of note. Always open to new approaches to music, it should be noted that Hank Jones was one of the first pianists to take on the (then new) language of bebop.

This new recording, with longtime sidemen George Mraz (bass) and Dennis Mackrel (drums), reflects Jones' impeccable taste, with the master choosing such unpredictable compositions as Tom Harrell's "Because I Love You" and Al Foster's "Pauletta," alongside such timeless Ellingtonia as "Sophisticated Lady" and "Prelude To A Kiss" and the much-admired Billy Strayhorn's "Johnny Come Lately" and "Lotus Blossom."
Tracks:
| | | |
| --- | --- | --- |
| 01 | Pauletta | 7:34 |
| | Your browser does not support the HTML5 Audio element. | |
| 02 | Bernsha Swing | 3:27 |
| | Your browser does not support the HTML5 Audio element. | |
| 03 | Queen of Hearts | 5:51 |
| | Your browser does not support the HTML5 Audio element. | |
| 04 | Sophisticated Lady | 5:18 |
| | Your browser does not support the HTML5 Audio element. | |
| 05 | Johnny Come Lately | 6:12 |
| | Your browser does not support the HTML5 Audio element. | |
| 06 | Prelude to a Kiss | 5:03 |
| 07 | Lotus Blossom | 8:01 |
| 08 | SKJ | 6:41 |
| 09 | Easy To Love | 5:00 |
| 10 | Because I Love You | 5:07 |
| 11 | Grace of God (There But for the Grace of God) | 8:09 |
| 12 | Softly As In A-Morning Sunrise | 5:49 |