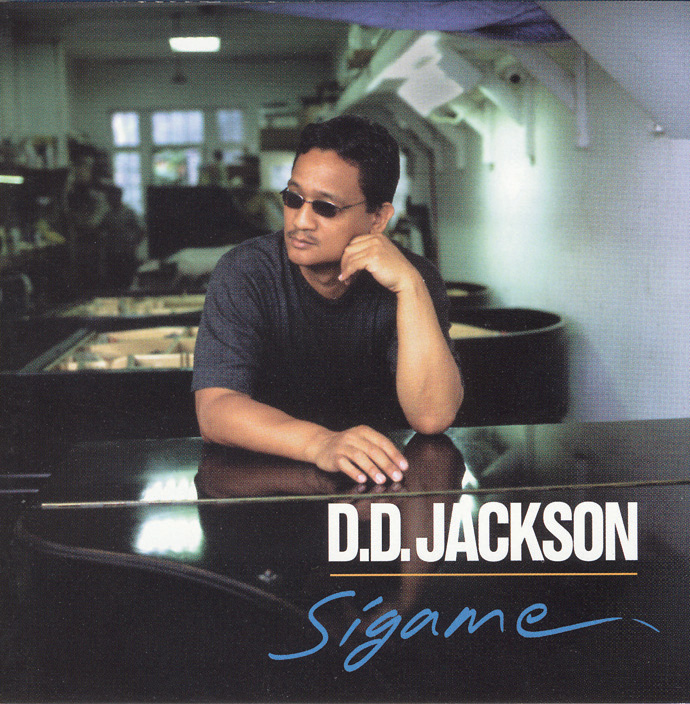 | UPC | REF# | Price |
| --- | --- | --- |
| 68944017720 | JUST 177 | 15 |
Sigame
D. D. Jackson
Label : JUST // Jazz // 2001-10-23
The 34-year-old Jackson won the 2000 Juno Award fo...
The 34-year-old Jackson won the 2000 Juno Award for Best Contemporary Jazz Album, and was also named the 2000 Downbeat Critics Poll #1 Talent Deserving Wider Recognition for Piano and the 2000 Jazz Report Composer of the Year. After a series of highly regarded discs as leader and co-leader (including his recent Justin Time collaboration with World Saxophone baritone saxophonist Hamiet Bluiett and AACM original member Kahil El'Zabar entitled "The Calling"), Jackson returns with the acoustic, mostly piano trio set entitled Sígame.

Sígame (meaning "follow me" in Spanish and pronounced SIG'-a-may") features a more distinctly latin tinge than his previous work, and the melody, groove, and sense of adventure that have become trademarks of Jackson's style. He is joined on this album of all-original material by some of the most dynamic and diverse young musicians on the New York scene: longtime Jacky Terrasson and Leon Parker bassist Ugonna Okegwo; 26 year-old Cuban drumming/percussion sensation Dafnis Prieto; Latin/jazz/classical guitar master Freddie Bryant (three tracks); and lastly, the alternately elegant and explosive playing of violinist Christian Howes (two tracks).
Tracks:
| | | |
| --- | --- | --- |
| 01 | The Welcoming | 5:53 |
| | Your browser does not support the HTML5 Audio element. | |
| 02 | Romanza | 6:40 |
| 03 | Le Shuffle | 5:47 |
| 04 | For Desdemona | 9:19 |
| | Your browser does not support the HTML5 Audio element. | |
| 05 | Jam Band | 6:41 |
| 06 | Summer | 7:10 |
| | Your browser does not support the HTML5 Audio element. | |
| 07 | Cubano Funk | 4:43 |
| 08 | Fort Greene Park | 4:57 |
| 09 | Sigame | 5:50 |
| 10 | Prologue | 5:09 |