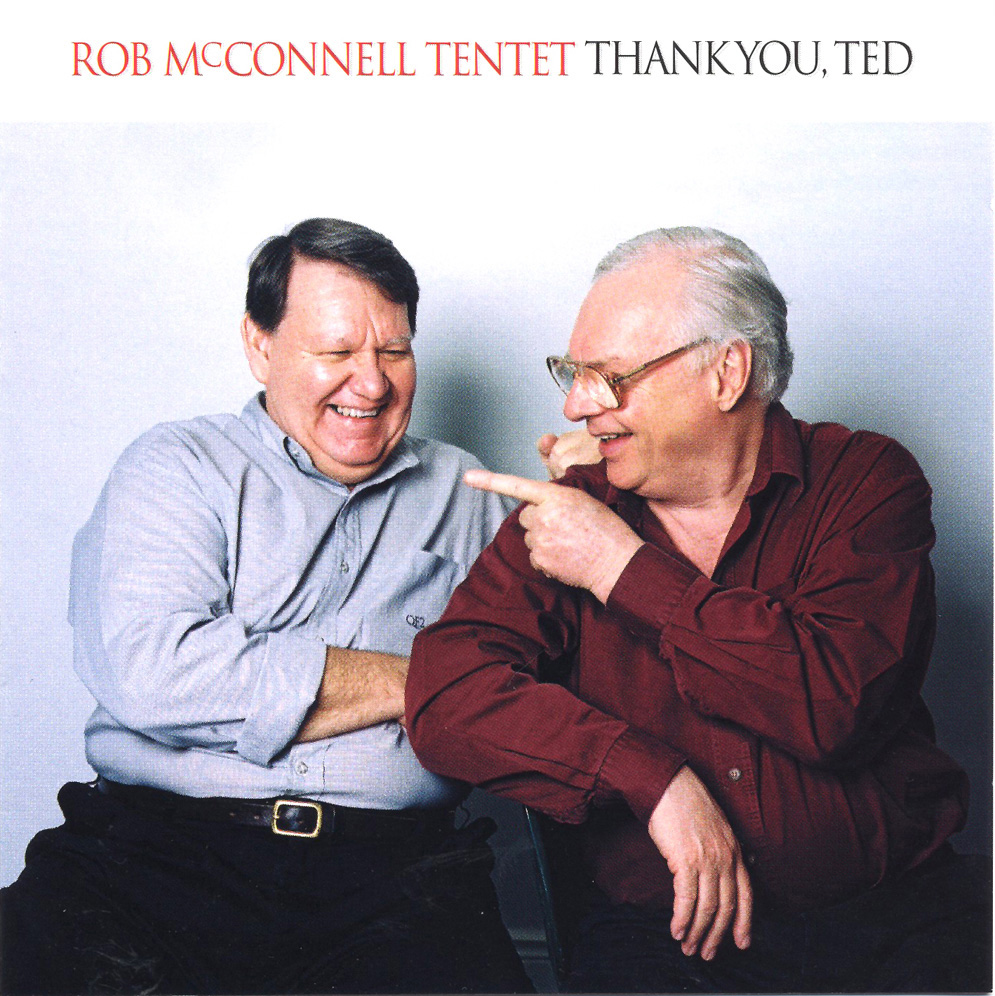 | UPC | REF# | Price |
| --- | --- | --- |
| 68944017324 | JUST 173 | 15 |
Thank You Ted
Rob Mcconnell Tentet
Label : JUST // Jazz // 2002-09-24
One can rest assured that whenever Rob McConn...
One can rest assured that whenever Rob McConnell enters a recording studio he'll be accompanied by a group of the finest jazz musicians Canada has to offer — and that the charts he brings with him will flash and gleam like the Aurora Borealis. No exception here, as Rob and his Tentet pay their warm respects to Ted O'Reilly, the amiable host of Toronto's premier Jazz radio program, "The Jazz Scene," for twenty-seven years before his retirement last April. Having written and recorded (with the Boss Brass) two of O'Reilly's theme songs, "T.O." and "T.O.2," McConnell the composer takes a holiday here, choosing instead to adapt seven pages from the Great American Songbook to complement Horace Silver's "The Outlaw" and Vic Dickenson's "Constantly." But all the arrangements are his, and as usual, each one is a paragon of graceful lyicism and dynamic group interplay.
The Tentet, a pared-down version of the Boss Brass, is so good it makes it harder for one to mourn the loss of the larger ensemble. Of course, most of these gentlemen played with the Brass before McConnell was forced to disband the orchestra, so what we have is a sort of "Boss Brass Lite," which may have less calories but is every ounce as satisfying as its meatier cousin. The rhythm section, of course, is an indispensable ingredient in any successful recipe, and the Tentet is well-seasoned by the superlative trio of pianist Dave Restivo, bassist Steve Wallace and drummer Terry Clarke, whose zesty cooking gives the ensemble a broad comfort zone in which to collaborate and improvise. 

McConnell holds the tempos in check, preferring slow to moderate, with only "The Outlaw," "Constantly" and Frank Loesser's "If I Were a Bell" exceeding the speed limit, but everyone seems thoroughly at ease within that leisurely framework and there are moments of great charm and beauty in every chart. There are marvelous solos too, with Rob's expressive valve trombone showcased on "Everything Happens to Me" and (with Terry Promane's slide trombone) Billy May's "Somewhere in the Night" (which some may recall as the theme from a '50s television show, The Naked City ), flugel master Guido Basso passionate on "I'll Never Stop Loving You," alto saxophonist P.J. Perry eloquent on "For All We Know," dueling tenors Mike Murley and Alex Dean loose and swinging on "The Outlaw." Dean, Wallace and Basso light the scoring lamp on "If I Were a Bell," Murley, Promane and Restivo on "Like Someone in Love," McConnell, Wallace and Perry on "Constantly." A second triumphant album for the irrepressible Tentet, which is doing everything in its power to fill the enormous void created by the unfortunate departure of the Boss Brass
Tracks:
| | | |
| --- | --- | --- |
| 01 | If I Were A Bell | 9:40 |
| | Your browser does not support the HTML5 Audio element. | |
| 02 | Like Someone In My Love | 11:31 |
| 03 | Everything Happens To Me | 5:07 |
| | Your browser does not support the HTML5 Audio element. | |
| 04 | The Outlaw | 6:50 |
| 05 | I'll Never Stop Loving You | 4:28 |
| | Your browser does not support the HTML5 Audio element. | |
| 06 | Constantly | 8:19 |
| 07 | The Folks that Live On The Hill | 3:38 |
| 08 | Somewhere In The Night | 6:26 |
| 09 | For All we Know | 4:31 |