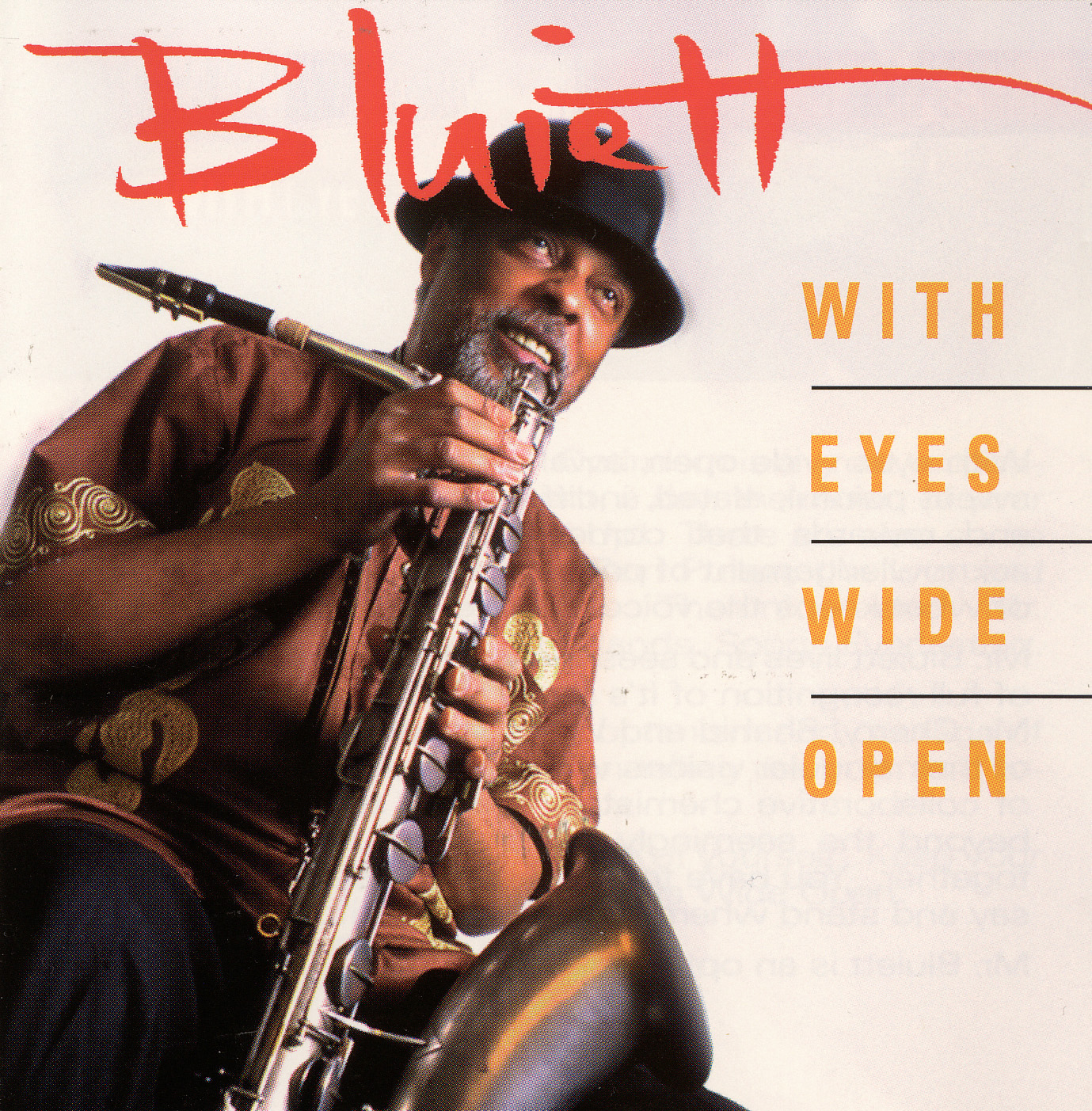 | UPC | REF# | Price |
| --- | --- | --- |
| 68944013821 | JUST 138 | 15 |
With Eyes Wide Open
Hamiet Bluiett
Label : JUST // Jazz // 2000-08-29
The esteemed baritone saxophonist and distinguis...
The esteemed baritone saxophonist and distinguished member of the World Saxophone Quartet previously known as Hamiet Bluiett has apparently dropped his first name, which is indicated on the title and credits of this 2000 solo release. Yet whatever the circumstances, Bluiett's quartet serves up a tasty brew consisting of soulful ballads, calypso rhythms, and hardcore swing on this affable effort featuring guitarist Ed Cherry, bassist Jaribu Shahid, and drummer Nasheet Waits. Essentially, Bluiett balances a steely edged attack with fluid swinging lines and an altogether impressive faculty for enhancing the proceedings with his seemingly impossible ability to hit those high notes, which is uncommon or perhaps unattainable for most baritone saxophonists.
The musicians afford themselves ample room to stretch whether pursuing tuneful melodies or engaging in heated, modern jazz-style interplay as Bluiett and Cherry often make for a formidable twosome while also displaying an intuitive approach via shrewd dialogue augmented by a keen sense of the dynamic. Overall, Bluiett and company raise the roof on occasion thanks in part to their employment of powerful unison choruses atop burgeoning rhythms as "With Eyes Wide Open" signifies a hearty group effort to coincide with a well-balanced track mix and passionate soloing.

-Glenn Astarita, All Music

Tracks:
| | | |
| --- | --- | --- |
| 01 | Africa / Island Song | 5:32 |
| | Your browser does not support the HTML5 Audio element. | |
| 02 | Sing Me A Song Everlasting | 7:46 |
| | Your browser does not support the HTML5 Audio element. | |
| 03 | Monk & Wes | 4:47 |
| 04 | Enum | 8:38 |
| 05 | Song for Camille | 9:41 |
| 06 | 1529 Gunn Street | 3:45 |
| 07 | Mystery Tune | 6:30 |
| | Your browser does not support the HTML5 Audio element. | |
| 08 | Deb | 7:50 |
| 09 | With Eyes Wide Open | 3:04 |