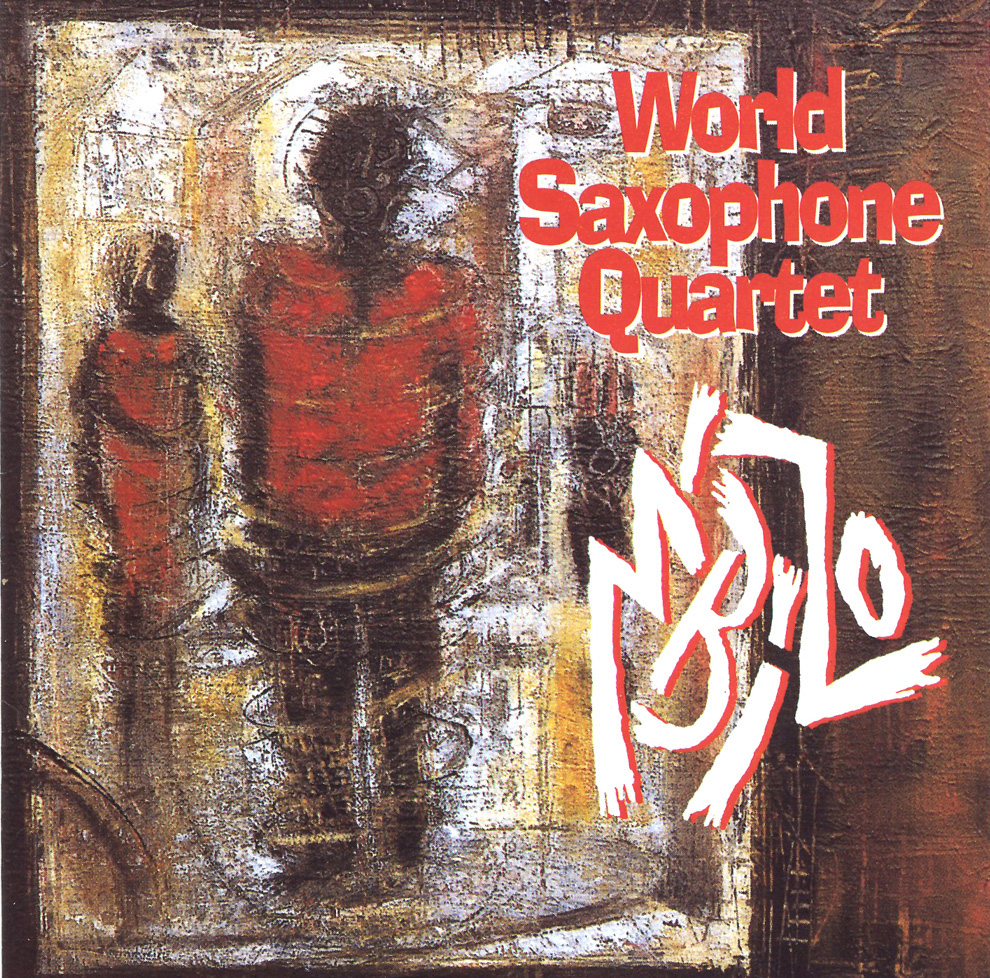 | UPC | REF# | Price |
| --- | --- | --- |
| 68944012329 | JUST 123 | 15 |
M'Bizo
World Saxophone Quartet
Label : JUST // Jazz // 1999-06-25
M'Bizo 's reason for existence is twofold...
M'Bizo 's reason for existence is twofold and intertwined. "The M'Bizo Suite" itself was written and choreographed specifically for a 1998 World Cup Carnavalcade held in northern France; this accounts for the theme of European-Asian-African unity, and may help explain the heartening robustness of the disc. As explained by David Murray in the liners, the album is also "for all those great musicians who had to leave their homeland, for those who were able to return and for those who never saw it again."
Sobering conceits often result in anthemic sloganeering at the expense of musical grace, but with M'Bizo, it's as if the WSQ and their South African guests internalized the notions of Unity to the point of complete unity of performance. The entire album, true to jazz and to African music, moves like a conversive dance, where the opening gumshoe vocal/Makhoyane-instrument tandem of "Snanapo" is transferred to drums/bass, the horns reduce everything to ecstatic chaos before building melodic statements, given extra harmony and darker shadings by the keyboards, until the listener realizes that behind all this American Jazz Freedom the original South African segment had formed a spine that the WSQ had fleshed out.
The Suite itself is built on the simple chant of "Africa-Europe-Asia" plus wordless syllables, presented first in a slow tempo, then doubled for "Sizelapha". The album's richest harmonies and melodies explode in the last two tracks. "Mashidiso" is especially touching. Murray asked the dancers to write verses expressing an expatriot's longing for the country he had been forced to leave. The graceful song carries a woman's name, and they - the South Africans and the WSQ - sing the type of "baby, baby" that hasn't been heard around here in a long time.
-Derrick A. Smith

Tracks:
| | | |
| --- | --- | --- |
| 01 | Snanapo | 12:19 |
| 02 | M'Bizo Suite - Part 1: Africa-Europe-Asia | 8:05 |
| | Your browser does not support the HTML5 Audio element. | |
| 03 | M'Bizo Suite - Part 2: Sizelapha | 3:18 |
| | Your browser does not support the HTML5 Audio element. | |
| 04 | M'Bizo Suite - Part 3: M'Bizo | 12:39 |
| | Your browser does not support the HTML5 Audio element. | |
| 05 | Matshidiso | 13:36 |